Mk9 Spitfire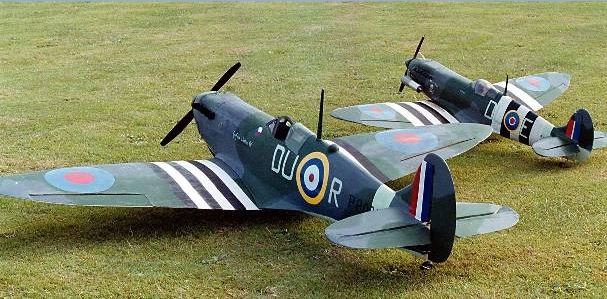 The Birth of a Spitfire – by Phil Parmiter
History (Well almost back into the dark ages)
I have always been fascinated with the Mk 9 Spitfire, so I swapped a 90 four stroke for one back in 1985. It was a 60-inch version but to my dismay crashed on it first flight. Oh well happens like that sometimes, still bitten by the bug I decided to look for some plans and build one of my own. Due to raising a family it was a number of years until the opportunity arose and the passion to search out the spit again. I obtained a Brian Taylor plan from the Nexus plans book and construction began with the help of my retired Father, in 1999 (wow some break hey).
Construction
This was reasonably simple, and the plans were easy to follow. Balsa was used through out the building of the plane and it was finished in solartex and Flair enamel paint.
This proved to be the down fall of my hopes and dreams, the spitfire was fast in flight and almost uncontrollable with a vicious tip stall if not handled with care, landing was fast and furious. But as always with this hobby never give up and persevere and things will sort them selves out in the end.
I decided to scale up the plans and build a larger version using a different wing section, using the construction method employed in the Brian Taylor plan. So many a late night was had taping A4 pieces of paper together to make a bigger plan. The programme I used for scaling up was Corel Draw 8 and scaled it to ¼ size making a wing span of 98 inches, I had a super tiger 3250 which I brought from Exeter auctions for the princely sum of £75.
Dad proved invaluable with his help constructing the wings and basic airframe leaving all the fiddly bits for me to concentrate on, like the wing fairings etc. Finishing was carried out the same as the smaller version. Due to the costs involved I decided not to fit retracts on this plane, what a mistake that was. A Spitfire with the wheels hanging down doesn't look right in the air.
So to the flying of the BIG Spitfire, with nothing left to do and expectation of a larger then life plane to fly I took two bins bags to the flying site instead of the usual one. ( just in case it doesn't hurt to be prepared).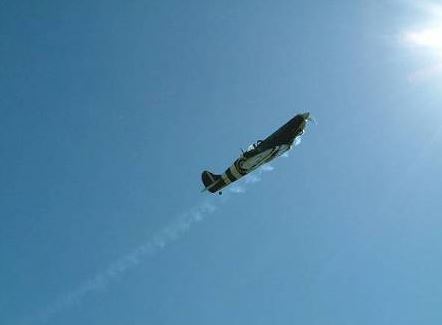 But to my amazement it flew very well indeed except for the engine cutting, serves me right for buying an old second hand engine in a large model. Wincanton Fun Fly Day came up and I decided to take the Spit for an airing and get some comments. But with the engine not working properly all I could do it fly flat figure of eights and hope the engine didn't cut out. A disappointing show not for Wincanton but for me as the wheel fell off during a landing and spoilt the day.
I rang Just engines and asked their advice, Paul was most helpful and a brand new Moki 210 arrived and was promptly fitted to the airframe. The plane was transformed it is now really a show stopper, the latest addition is some retracts supplied by Colin Whitfield from Exeter Model Flying Club, who happened to have a set spare.
I thought about cutting the old wing about to fit the retracts in but decided to make a new pair as it seemed the easiest option to beef up the spars and strengthen the wing in the right places. Cockpit detail has been added to finish of the look of the plane, and a new paint scheme has been added from a Dutch Spitfire D_UU mk732.
I would advise any one considering a large model to think about making one of these, every time I fly it now it stops the traffic at our club site, and I am a very happy chappy indeed.