Community Club Goes Karting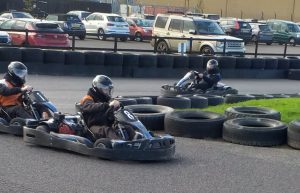 Well it all started with a visit to Haines Motor Museum with my wife Jan and son-in-law Louis. On entering the car park I noticed a karting track, difficult to go by that and Louis agreed also. So before we entered the museum we had booked two ten minute slots each for when we came from the museum. It was a scream, what a laugh we had!! After the first slot I began to realise how hard work it was as my shirt was stuck well and truly to me. Never the less I really wanted to do it again.
I had the brainwave that perhaps our club members might like to have a go as well. I suggested the karting event on the club whatApp and before long we had 8 'karters' and a date and time – happy day's!!
Monday 25th October at 3pm we were off! The event organised by the track officials and was called the Super Sprint 30 consisting of ten laps to sort grid positions followed by a 30 lap race. Writing this the day after I'm remembering the sore muscles I had the first time!! A blow by blow account would take too long but I will say we had an absolutely excellent afternoon. What A great bunch of guys make up our club even the 'enthusiast' who "tee boned" me (yes you know who you are ;-).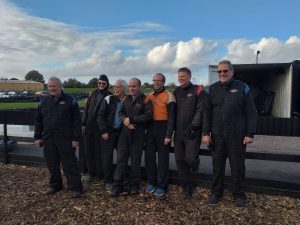 Matt Follet was the well-deserved winner With Dominic Berry being the runner-up.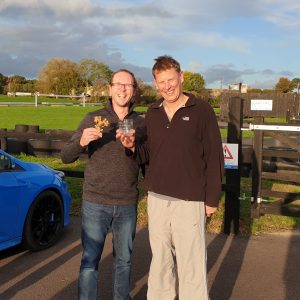 We all agreed that there would be more karting in 2022. But on that note I believe that the Chesil MFC could have more events during the year and of a varied nature to further reinforce the comradery already shared by all of our club members. It has been proposed that we could arrange some less strenuous events to ensure that wives and partners could also participate. Skittles, tenpin bowling, bus trips to museums and clay pigeon shooting have already been suggested. So I invite you all to bring your suggestions to the club and maybe offer your services also to arrange some them. I will volunteer to arrange the next Karting event in 2022.
BEST REGARDS
STEVE VINE
More Photos of the event:-