Eddie Ailsby Shield
Every year we have a aerobatic competition for the Eddie Ailsby Shield sometime in September.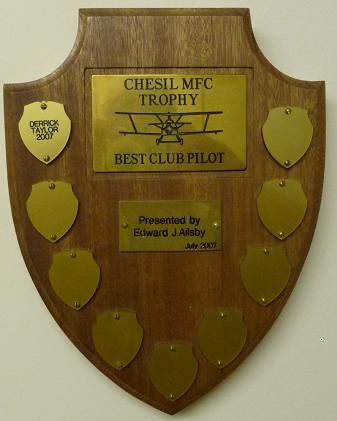 2011 Report
In spite of the bad weather we held the competition in between showers. Considering the weather I thought the lads/club did well and thankfully they did turn out. Lets hope for better weather next year,  but we say this every year. (signed) Edward RN Rtd.
1. George Rymell 173 points Well done boy, Why weren't you at school? Next year we are cutting your thumbs off! (Ed.)
2. Trevor Roper 161
3. Howard Dean 159
4. Phil 143
5. Duncan 139
6. Leigh 100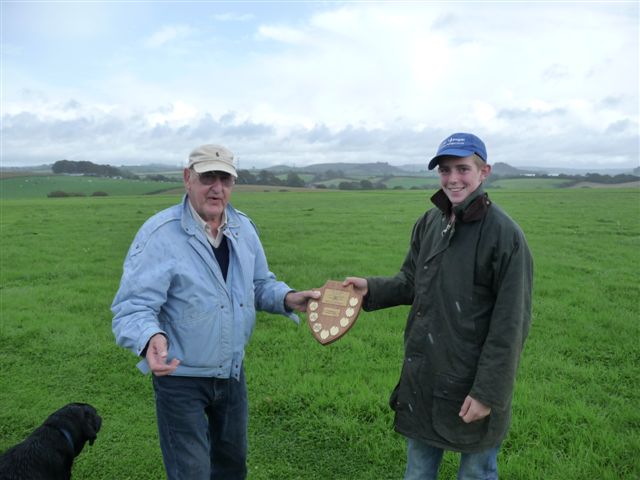 Eddy presents the shield to George Rymell 2011
2010 Report
1 Duncan 249
2. Chris 237
3. George 230
4. Phil 210
2009 Report
This year the Shield was flown in changeable conditions and we had an increased entry this year from 4 in 2008 to 9 this year. Lets hope it goes from strength to strength!
2 Rounds were flown this year and instead of discarding the worst score, this time it was the 2 rounds added to make a total score of 54.
Dave Burstow was the Judge and submitted the following Score Sheet:
Max score is 54 points from 2 rounds.
1 Mike Aburrow 43
2 Chris (No1 next year?) 41
3 Tony Sparks Junior 40
4 Duncan Kennedy 39
5 Ben Kennedy 34
6 Leigh 30
7 Phil P 29
8 Martin 27
9 Tony Sparks Senior 19 (only one round completed)
Schedule flown is at the bottom of this page.

Eddy presents the shield to Mike Aburrow 2009
2008  Report
For the first time this year the weather has been kind to us and a great day of flying, fun and barbequeing was had by all. Mark won the Ed Ailsby Shield after a stunning display with his little electric 3D thingy. Anyway the results were as follows. (Judges Dave Burstow and Derrick Taylor)
2 rounds flown. After discarding worst score and averaging judges' scores, maximum possible points 27.
Eddie Ailsby Shield – disappointingly only 4 entries – let's do better next year chaps! Practise!
1st – Mark Grumbt – 23.5
2nd – Phil Parmiter – 20
3rd – Chris Hornby – 18.5
4th – Duncan Kennedy – 17.5
Climb & Glide
Howard – 4m 37s
Derrick – 3m 17s
Chris – 2m 54s
Dave P – 2m 29s
Martin – 2m 21s
Ed – 1m 5s
Spot Landing
Phil P – 5ft
Derrick – 6ft
Martin – 13.5ft
Chris H – 18.5ft
Howard – in the rough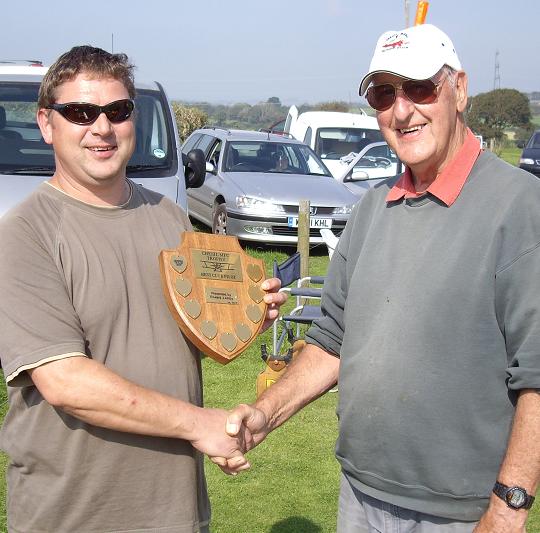 Eddy presents the shield to Mark Grumbt