Large scale flying model of G-EBMR Handley Page W10 Imperial Airways air-liner
This aeroplane entered service in 1926 with Imperial Airways and used on their Silver Wings flights from London (Croydon) to Paris, Brussels and Cologne.  Coming to the end of its service in 1932, Sir Alan Cobham hired it and G-EBMM for his National Aviation days, for the public to enjoy a five bob (25p) flight experience with his Flying Circus.  When attempting to establish a world record in 1934 for a non-stop flight to Karachi, India, Sir Alan bought the W10s for use as tankers to refuel his Airspeed Courier in the air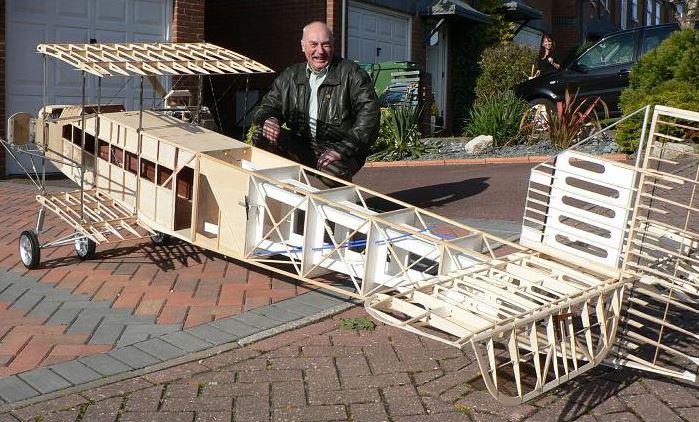 Don Billingham built the quarter scale model of the Airspeed Courier early last year and has spent the last six, very intensive, months and over 1000 hours labouring in his shed to produce the W10 biplane airliner. With a wingspan of 15 feet (4.57m) and length nearly 12 feet it is a significant aeroplane with an enormous presence, even in its uncovered state. It has two Laser 360, 60cc V twin engines, weighs 30 kg and is registered with the Large Model Association/CAA over 20kg scheme.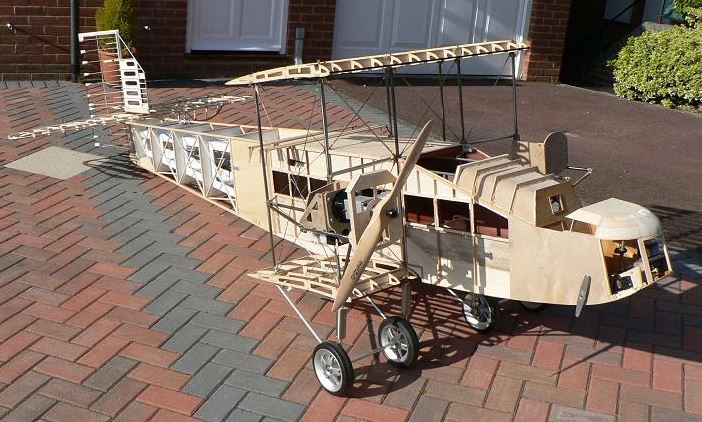 Don designed the model from scratch and, during the build, managed to obtain copies of original 1926 Handley Page fuselage drawings of the W10. Working from photographs, the model is a close facsimile of the full size air liner, at 20% scale, a rib for rib replica wherever possible. Each rib and frame were drawn and computer processed by Don into a format that would be processed by a laser cutter and about 700 individual parts were then professionally cut from 3mm plywood sheets. The spars were supplied from selected aircraft grade Sitka Spruce and machined to his special requirements. Adhesives are mostly Polyurethane wood adhesive, PVA and Isocyanate.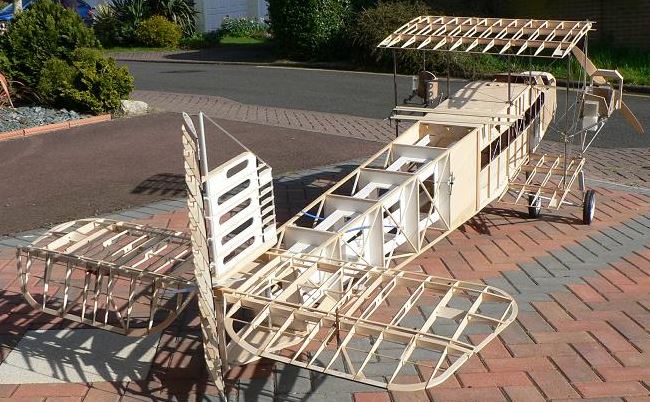 At the April 6th meeting of the Chesil MFC, Don brought along his guest, Tony Hooper MBE, who is Chief Examiner for the LMA over 20kg scheme, and who had Progress Inspected and passed the W10, that very afternoon.
Tony was invited to speak, starting with complimentary comments on the W10 and announced that Don has been appointed as an LMA Inspector for this region and Phil Parmiter appointed as LMA Proficiency Examiner. Tony continued with a talk on the origins of the LMA, the early variance with the BMFA on the size of models permitted to be flown and the present excellent relationship of the two organisations. He detailed how an over 20kg model is progressed through the stages to become an aeroplane flying with an exemption certificate authorised by the CAA and the need for the LMA Proficiency scheme for pilots flying large models in front of the public.
The talk continued with Tony's connection with Nottingham University and the UAV programme where unmanned aerial surveying was successfully accomplished and other trials at F.R. with an over 20kg, all carbon fibre seaplane, flying with 2.4gHz radio gear, over seawater, without glitches!

A very informative and well attended, interesting meeting.
Anon
April 2009