Titan II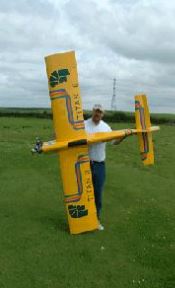 Before…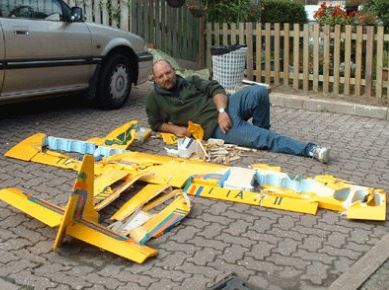 It all started with a trip to a Wincanton Falcons fun fly day last year. Due to the foot and mouth epidemic there seemed to be no other shows on in the area.
After slaving away during the winter months to build a quarter scale Spitfire I wanted to show it off…
So came the day when I was made most welcome by the Falcons and had a great day's flying.
It so happened I met a chap known to some of you a Mr Steve Vine, who was full of wit and made the day even more fun with his comical observations. I am glad now to call him one of my friends. Any way on to Steve's design the TITAN II. After seeing the TITAN team display at Woodsprings and watching Steve Holland throwing his yellow beast around the sky I made my mind up to build one and join the Woodsprings team in 2003. After aproaching Steve Vine about construction and purchasing a (cheap) set of plans construction was underway.
The plans are 1/2 scale so a bit of measuring and tweaking was in order, nothing an 11 year old couldn't do. Simply multiply by 2, as easy as that…. Lo and behold a TITAN II appeared before my eyes in a short time. 1 week from start to finish as basically all it is is a big box…
The foam wings proved to cause a bit of a headache, as they are 3.5 inches thick and I didnt have access to any thing larger then 3 inches, (The foam silly). A scout around work and my prayers were answered by a piece of blue foam 8 inches thick, now I was in bussiness…
Due to the density of the blue foam 10 lightening holes were made in the wing to try and lighten it. A quick call to Glens models and a brand spanking new ZENOAH 62 was sat on my bench with all the fittings such as tank and trumpet, etc…
So the plane was duely finished, in glass skin and profilm and Steve kindly appeared at my flying club with his TITAN for me to twiddle the sticks and WOW. It did every thing I could wish for in a plane. In fact more than I was capable of doing. Steve put the plane through it's paces and I had my own flying display right there.
I went home happy and determined to fit the radio in and get the beast flying asap.
So to the test fly, the Zenoah was fired up and run in at home so nothing was stopping me from flying the TITAN. I flicked the prop and the engine burst into life, a quick taxi to check the ground handling and away she went. No trim was needed and she preformed as well, if not better then Steve's, due to a more rearward C.O.G. Steve said later.
I had missed the Woodspring venue for this year so I took the plane to the Exeter fun fly day and had a couple of proving flights on thier fantastic strip. While I was there I met up with the Exeter sec. (Colin) and invited him to fly my Spitfire. Colin was impressed with the Spits flying and decided to come up to our club site for a days flying.
I decided to leave the Spitfire at home that day as I needed to improve my TITAN flying. The Zenoah was tanked up and away she went, me with a big smile on my face as all watched the TITAN doing giant loops and rolls. A bit of height and a expert bunt (outside loop) was achieved, but to my horror nothing worked.
As the TITAN carried on bunting merriely I checked all transmitters were off. Calling out all to look out as the TITAN carried on bunting. NOTHING WORKED not even the failsafe kicked in. The reciever battery had broken away from its velcro strip and had pulled out of its socket. Still the TITAN carried on bunting.
All I could do was watch in dispair as it still carried on bunting. Now being blown down wind bunting all the way. Cars were got and the chase was on as I stood on the patch watching my lastest creation bunting 1/2 a mile away.
The TITAN (In a bin bag) was brought back to the site and a postmortem was performed, all the radio which was wrapped in foam worked as soon as the wayward battery was plugged in. The new Zenoah was totalled and the plane was written off.
A very expensive lesson but one I shall take to heart. Never but never rely on just velcro to hold your battery pack in place. The TITAN project is on hold for now untill GLENS models can get back with a repair bill for the engine, Oh well.
Happy Flying
Phil
The plane was retrieved by Colin and Graham.
(The TITAN has now been rebuilt and is up and flying)